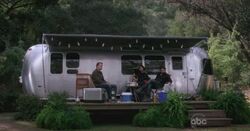 Derek's Trailer is on Derek Shepherd's land in Seattle. After he moved in with Meredith, the trailer became vacant until Owen Hunt moved in after selling the firehouse. Owen eventually sold the trailer when he bought a house.
Occupants
Edit
Previous Occupants and Visitors
Edit
Ad blocker interference detected!
Wikia is a free-to-use site that makes money from advertising. We have a modified experience for viewers using ad blockers

Wikia is not accessible if you've made further modifications. Remove the custom ad blocker rule(s) and the page will load as expected.