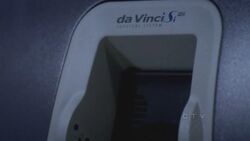 The da Vinci Surgical System is a brand of surgical equipment. It provides for complex surgeries using a minimally invasive approach, using 540 degrees of wristed motion which is impossible to obtain by laparoscopic or open means. The surgeon operates the equipment by console.
The da Vinci Surgical System is mostly used in general surgery procedures.
Notable Locations
Edit
Notes and Trivia
Edit
Ad blocker interference detected!
Wikia is a free-to-use site that makes money from advertising. We have a modified experience for viewers using ad blockers

Wikia is not accessible if you've made further modifications. Remove the custom ad blocker rule(s) and the page will load as expected.