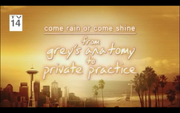 Come Rain or Come Shine: From Grey's Anatomy and Private Practice is a special clip show episode that recaps Addison's life before relocating to Los Angeles.
The episode consists of all important scenes featuring Addison, Derek, Mark, Meredith, and other Grey's Anatomy characters from Addison's introduction to the season three finale of Grey's Anatomy, with commentary from the editors of People Magazine in between them. 
The episode also contains an exclusive look at the music video for Mat Kearney's "Breathe In, Breathe Out", containing clips of Grey's Anatomy.
Notes and Trivia
Edit
Ad blocker interference detected!
Wikia is a free-to-use site that makes money from advertising. We have a modified experience for viewers using ad blockers

Wikia is not accessible if you've made further modifications. Remove the custom ad blocker rule(s) and the page will load as expected.