This article is a stub.
Please help the wiki by expanding it.
Charles Percy
Biographical information
Died
Status

Deceased

Alias

Charlie
Bigfoot
Nosedive
Chachi

Title(s)

M.D.

Family information




Parents

Mother

Professional Information
Profession
Workplace
Character information
First appearance
Last appearance
Seasons
Portrayed By
.
Charles Percy was a surgical resident at Seattle Grace Mercy West Hospital and previously at Mercy West Medical Center. He was murdered by grieving widower, Gary Clark.
Early Life
Edit
Little is known about Charles' personal life other than he was in love with Reed Adamson and good friends with both Jackson Avery and April Kepner.
Hospital Merger
Edit
Charles transferred from Mercy West to the newly formed Seattle Grace Mercy West Hospital. He instantly started sucking up to Izzie Stevens, even confessing to her that he had a crush on Reed Adamson. She believed he was genuine, but he later bragged to the other Mercy West residents that he had made her his bitch. He later apologized, stating that they could be friends outside the hospital, but not inside. ("Invasion")
Hotel Fire
Edit
Charles donated blood immediately before going to the ER to treat patients from a hotel fire. When he arrived in the ER, he was told to hold an axe imbedded in a patient steady. However, he fainted and pulled the axe out. On his way down, he was hit in the head with the axe and needed stitches. He was later investigated with the other doctors when a patient died under suspicious circumstances. ("I Saw What I Saw")
Wallace Anderson
Edit
Charles worked on Wallace Anderson with Arizona Robbins. He informed her when Wallace developed another bowel obstruction and scrubbed in on his surgery with her. ("Invest in Love")
Dr. Singer
Edit
Charles worked on Dr. Singer, which put him in close contact with Izzie Stevens, who believed he'd gotten her fired. ("New History")
Reed Flirting for Surgery
Edit
When Charles saw Reed flirting with Alex and implying that she'd trade sexual favors for the chance to scrub in, he confronted her about it, but she brushed him off. ("Blink")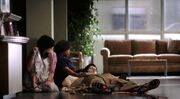 A friendly relationship between him and Miranda Bailey developed while on his death bed. She held his hand the entire time and he confessed to her that she was his favorite surgeon. Those were his last words.
Relationships
Edit
He had a crush on Reed Adamson, but never told her.
He claims he once didn't talk to his family for an entire car ride across the country, which took ten days and crossed fifteen states. ("Invasion")
Friendships
Edit
Professional
Edit
Charles Percy was a surgical resident at Mercy West Medical Center, but he started work at Seattle Grace following the merger.
At the time of his death, Charles was in his third year of residency.
Notes and Trivia
Edit
Appearances
Edit