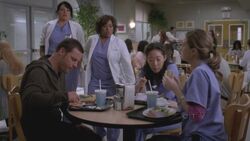 The cafeteria or canteen is the place where the interns, residents, attendings, nurses, and staff of Seattle Grace eat their lunch and catch up on the latest gossip. There is an outdoor and indoor area.
Meredith met Finn Dandridge for lunch when dating him and Derek at the same time.
Cristina and Izzie spoke about her cancer using the code word, enema.
Notes and Trivia
Edit
Cristina Yang prefers coffee from the cart rather than the canteen.
Ad blocker interference detected!
Wikia is a free-to-use site that makes money from advertising. We have a modified experience for viewers using ad blockers

Wikia is not accessible if you've made further modifications. Remove the custom ad blocker rule(s) and the page will load as expected.