Blink
Talk

0
1,450pages on
this wiki
Blink
Season 6, episode 11
Arizona, Mark, and Addison exploring their options with Sloan's baby.
Episode Information
Airdate

January 14, 2010

Written by
Directed by
Episode Guide
Previous
Next
.
"We assume the really serious changes in our life happen slowly, over time. But it's not true. The big stuff happens in an instant. Becoming an adult. Becoming a parent. Becoming a doctor. One minute, you're not, and the next... you are. Ask any doctor, and they can point to the one moment they become a physician. It usually isn't med school graduation day. Whatever it is... nobody forgets it. Sometimes you don't even know anything's changed. You think you're still you and your life is still your life... but you wake up one day and you look around and you don't reognize anything. Not anything at all. You never forget the moment that you become a doctor. A switch flips. Suddenly, you're not playing dress-up anymore. You own the white coat. What you may not notice is the moment that being a doctor... changes you."
Blink is the eleventh episode and mid-season premiere of the sixth season and the 113th overall episode of Grey's Anatomy.
Short Summary
Edit
Mark flies Addison to Seattle to help with a difficult procedure on his pregnant daughter, Sloan, Owen questions Teddy's motives when she assigns Cristina the lead on a complicated surgery, and Derek's suspicions are raised when the Chief recruits Meredith to assist with a high profile operation.
Full Summary
Edit
Episode in detail.
Main Cast
Edit
Special Guest Star
Edit
Guest Stars
Edit
Co-Starring
Edit
Medical Notes
Edit
| Song | Performer | Scene |
| --- | --- | --- |
| "Play" | Correatown | |
| "Breaking News" | Jack Savoretti | |
| "Hawthorne to Hennepin" | Clint Michigan | |
| "Cosmic Love" | Florence + The Machine | |
Notes and Trivia
Edit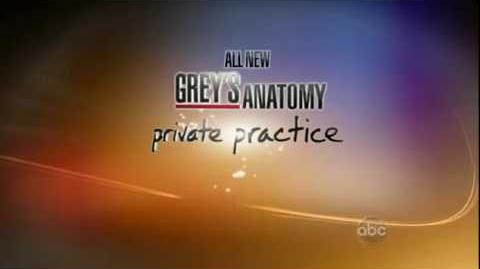 Episode Stills
Edit
---
---
---
---
---
---
---
---
---