This article is a stub.
Please help the wiki by expanding it.
Beatrice Bradford Forbes
Biographical information
Died

2011, Los Angeles

Status

Deceased

Alias

Bizzy

Family information
Marital
Children
Parents

Father

Others

Henry Montgomery (grandson)

Character information
First appearance
Last appearance
Seasons
Portrayed By
.
Bizzy Forbes was the eccentric mother of Addison and Archer Montgomery.
Telling Addison the Truth
Edit
After The Captain called her to come tell Addison the truth, she flew to Los Angeles. When Susan came there after her, Addison believed that the Captain was having an affair with her. However, she was shocked when she walked in on Bizzy and Susan kissing. Believing that The Captain pushed Bizzy to do it, Addison talked to Bizzy about facing it, but Bizzy corrected her that she and Susan had been together for 20 years. Bizzy said that Susan was the one thing she did of herself among all the things she did for her children. Seeing how upset having her parents there made Addison, Sam came to her house and told them to leave. They did so, but Addison came to the airport to see them off and take to Bizzy, though they only talked about complaining about the service she'd received on the flight to Los Angeles. ("Blowups")
Bizzy lived in Connecticut and was very wealthy. She committed suicide by overdose following the death of her wife, Susan.
Relationships
Edit
She had a thing with another girl at summer camp when she was 14. ("Blowups")
She married The Captain, but even though she loved him, she was not "in love" with him. They stayed together because of their children, Archer and Addison. The marriage wasn't an easy one. The Captain knew that Bizzy's interest was not in him and therefore had many affairs to fill the void.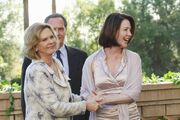 She had a 20 year secret relationship with her assistant, Susan. They got married after Susan was diagnosed with cancer. Bizzy committed suicide after Susan's death.
Famillial
Edit
Bizzy's relationship with her children wasn't an easy one. She wasn't a loving mother, but instead was very demanding of them.
Notes and Trivia
Edit
Bizzy refused to be called mom.
Bizzy was a very strong, demanding, and independent woman.
She commited suicide after Susan died.
Bizzy's body was found by her daughter.
She was 62 at the time of her death.
Appearances
Edit