Beat Your Heart Out
Talk

0
1,441pages on
this wiki
Beat Your Heart Out
Season 5, episode 14
Derek receives a call from Addison.
Episode Information
Airdate

February 5, 2009

Written by
Directed by
Episode Guide
Previous
Next
.
"Any first year med student knows that an increase heart rate is a sign of trouble. A racing heart can indicate anything from a panic disorder to something much, much more serious. A heart that flutters, or one that skips a beat, could be a sign of secret affliction or it could indicate romance which is the biggest trouble of all. It seems we have no control what so ever over our own hearts. Condition can change without warning. Romance can make the heart pound just like panic can. And panic can make it stop cold in your chest. It's no wonder doctors spend so much time to keep the heart stable, to keep it slow, steady, regular to stop the heart from pounding out of your chest from the dread of something terrible or the anticipation of something else entirely."
Beat Your Heart Out is the fourteenth episode of the fifth season and the 92nd overall episode of Grey's Anatomy.
Short Summary
Edit
Izzie has the interns do a barrage of tests on her to find out what's wrong with her. While the Chief tries to get Bailey to stay in general surgery, Dr. Dixon and Dr. Robbins both tell her that she is really meant for peds. Lexie decides she wants to go public with Mark, withholding everything from him until he does, and Arizona kisses Callie. Knowing that Meredith is ready for marriage, Derek gets ready to propose, but his plans for a grand gesture are interrupted.
Full Summary
Edit
Episode in detail
Main Cast
Edit
Guest Stars
Edit
Co-Starring
Edit
Medical Notes
Edit
| Song | Performer | Scene |
| --- | --- | --- |
| "Stuck It To You" | Nikka Costa | |
| "Transmission" | Panda Transport | |
| "These Streets" | Trolle Sievenhaar | |
| "Re: Stacks" | Bon Iver | |
| "Halo" | Kate Havnevik | |
| "Never Want To Say It's Love" | Dido | |
Notes and Trivia
Edit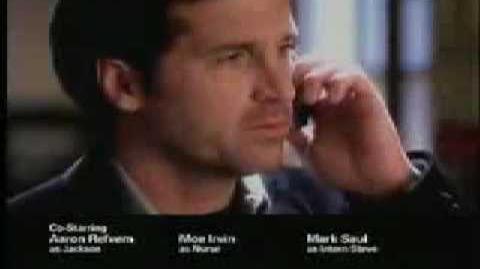 Episode Stills
Edit
Derek: Addison? What happened?
---
Derek: She said a thing about babies. Like babies are a totally ordinary idea. She's not afraid, she's ready.
Mark: When are you gonna do it?
Richard: Do what?
Mark: Shepherd's proposing.
Richard: No kidding? Outstanding! How're you gonna do it?
Derek: I don't know. Just decided.
Owen: Morning.
Mark: Shepherd's proposing.
Owen: Congratulations, that's a big step.
Derek: Thank you very much. (to Mark) You just gonna tell everybody now?
Mark: You need advice. Hunt, you ever proposed before?
Owen: Uh sorry I'm...not the guy to ask. When are you gonna do it?
(Meredith approaches)
Derek: Well more importantly how am I gonna do it?
Mark: (sees Meredith, coughs) So, what do you use, like a twist drill for that?
(Richard leaves)
Derek: Well not if you don't want a partial, pridal hematoma!
(Derek, Mark and Owen do big fake laugh.)
Meredith: (confused) Hi... (walks away)
---
Callie: Alone people don't like to hear about the together people...It's just sort of mean. It's sort of like bringing a 6-pack to an AA meeting.