Adrift and at Peace
Season 7, episode 10
Meredith rushes her patient into the ER.
Episode Information
Airdate

December 2, 2010

Written by
Directed by
Episode Guide
Previous
Next
.
"
The first 24h after surgery are critical. Every breath you take, every fluid you make is meticulously recorded and analyzed. Celebrated or mourned. But what about the next 24 hours? What happens when that first day turns to two and weeks turn into months? What happens when the immediate danger has passed, when the machines are disconnected and the teams of doctors and nurses are gone? Surgery is when you get saved. But post-op, after surgery, is when you heal. But what if you don't? The goal of any surgery is total recovery, to come out better than you were before. Some patients heal quickly and feel immediate relief. For others the healing happens gradually. And it's not until months or even years later that you realize you don't hurt anymore. So the challenge after any surgery is to be patient. But if you can make it through the first weeks and months, if you believe that healing is possible, then you can get your life back. But that's a big if.
"
Adrift and at Peace is the tenth episode and mid-season finale of the seventh season and the 136th overall episode of Grey's Anatomy.
Short Summary
Edit
Despite Meredith's objections to the idea, a concerned Derek takes Cristina on a fishing trip in order to get away from it all, while Teddy, feeling directionless without Cristina, directs all of her efforts and compassion towards a dying patient who lacks the proper insurance to seek medical treatment.
Full Summary
Edit
Episode in detail.
Main Cast
Edit
Guest Stars
Edit
Co-Starring
Edit
Medical Notes
Edit
Bailey's Patient
Edit
Bailey performed a gallbladder removal through a patient's mouth.
Andrew Rabb
Edit
Andrew had had a tumor removed three days before and Lexie was monitoring him in the hopes that he wouldn't develop a fistula. When Lexie figured out that Eli had removed his drain, she demanded that he get it put back in. He refused. But Bailey ultimately connected that his patients, who had their drains removed the third day after surgery, had lower fistula rates.
Trina, 27, fell 100 feet into a ravine onto her husband. She was pulled out and taken to the ER where her only complaint was a lacerated ear. Mark came in while her husband was in the OR and fixed her ear.
Jason, 27, was brought to the ER after his wife fell 100 feet and landed on him. His abdomen was distended and he was bleeding internally. He was taken immediately into surgery. In surgery, Owen believed that the injury in his abdomen was a lethal injury, but he ultimately figured out a solution that would give them the time to repair the damage. After surgery, his wife came in to see him and was informed that things were still tenuous.
Treatment:

Minimally invasive hip replacement
Ron needed a hip replacement. He had a consult with Callie, who said she could do a minimal invasive one later that afternoon and he'd be walking out of the hospital by the end of the week. He was hesitant to agree, but after a consult with another orthopedic surgeon, he came back to Callie and had her replace his hip.
Three days post-op, Adriana was still fistula free.
Diagnosis:

Von Hippel-Lindau Disease
Adrenal tumor
Henry was in the hospital with a tumor on his adrenal gland, but he was uninsured, so he was being discharged. Teddy looked at his chart and said she'd talked to Richard about him. When a committee decided just to give him a medic alert bracelet and discharge him, Richard prescribed alpha blockers and went to send him on his way. Teddy came in and offered to marry him in order for him to be covered by her medical insurance.
Miss Hathaway
Edit
April's patient came into the ER three days after being discharged with a fistula. She was in septic shock and was taken into surgery.
Stark's Patient
Edit
Alex assisted Stark in surgery on a midgut volvulus.
| Song | Performer | Scene |
| --- | --- | --- |
| "It's Christmas Time" | Jules Larson | |
| "Merry Xmas" | Basement Apartment | |
| "Nun Gimmel Heh Shin" | The Lee Vees | |
| "O Come All Ye Faithful" | Ashton Allen | |
| "The First Snowflake" | Boy Least Likely To | |
| "Silent Night" | Low | |
Notes and Trivia
Edit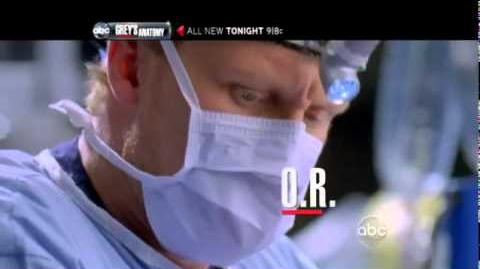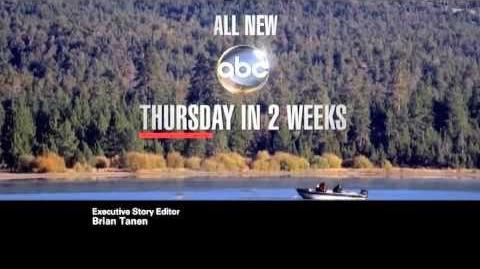 This episode's title originated from the song Adrift And At Peace, originally sung by Nine Inch Nails.
This episode scored 11.02 million viewers.
The scenes of Derek and Cristina fishing were filmed at the Big Bear Lake in California.
Episode Stills
Edit
Callie: I am stubbornly choosing to believe that not all people are evil and bad and leave me at airports.
---
Owen: Do you want to know what I think? I think you are reckless. I think you are reckless with your own life and today you were reckless with a patient's life. I don't care who you are. I don't want that in my OR, and I don't want that around my wife who is struggling just to hold on.
Meredith: Your wife is struggling just to hold on because you married her and let it be OK for her to completely fall apart.
Owen: You are fearless, and I don't mean that in a good way. Most people don't tell the guy with the gun to shoot them. Most people are like Cristina. Most people are afraid. So what she needs isn't what you need. She isn't you, Meredith.
---
| | |
| --- | --- |
| | A complete overview of this episode's crew can be found here. |